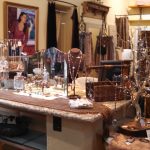 Sage of Grace Gifts.
We carry a wonderful line of candles, Leather Goods from California Designers, Crystals from around the world, Quilts lovingly hand stitched in Nepal and many other specialty items.  You can also find beautiful works of art from renowned Artists;  Oil on Canvas, Bronze and Wood pieces, Sculptures and other amazing items.
Pictures are indeed worth a thousand words, but come in and look at the workmanship and feel the fabrics. Use all your senses to experience the beauty of each creation. We have a relaxing atmosphere, and you'll want to check out our boutique frequently as our unique and often one of a kind products change frequently.
Click or tap the tiles below to view the full photos, click or tap off the photo to close the popup…
---