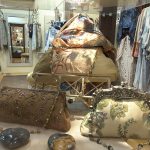 Sage of Grace Purses.
Check out our 'One-Of-A-Kind' Leather Handbags, carefully handmade by our custom Leather Smiths. Our hand beaded clutches are specially stitched with love. Perfect for a night out on the town.
Pictures are indeed worth a thousand words, but come in and look at the workmanship and feel the fabrics. Use all your senses to experience the beauty of each creation. We have a relaxing atmosphere, and you'll want to check out our boutique frequently as our unique and often one of a kind products change frequently.
Click or tap the tiles below to view the full photos, click or tap off the photo to close the popup…
---