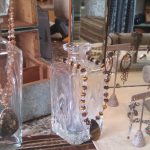 Sage of Grace Jewelry.
Jewelry is our specialty. Sage of Grace carries jewelry from very special designers.  Most are One-Of-A-Kind pieces, using primarily natural gems, semi-precious stones, Sterling Silver, 14K GF chains and materials, as well as sometimes 'Vintage Treasures'  It's amazing that you can feel 'Calmer' wearing Amethyst, 'Grounded' wearing Pyrite and experience more 'Clarity' wearing Clear Crystal Quartz … The Gem world is a magical one. It is our hope that by wearing your pieces you can experience more joy, love and gratitude everyday.
Pictures are indeed worth a thousand words, but come in and admire the workmanship while trying it on. Use all your senses to experience the beauty of each creation. We have a relaxing atmosphere, and you'll want to check out our boutique frequently as our unique and often one of a kind products change frequently.
Click or tap the tiles below to view the full photos, click or tap off the photo to close the popup…
---